Emblems with 3D embroidery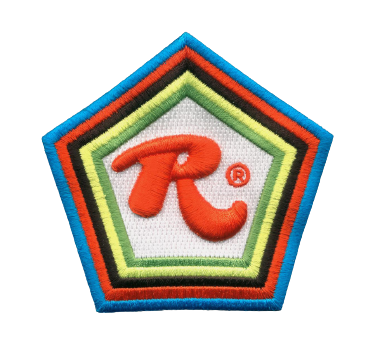 In some cases, a design offers the possibility to apply a 3D embroidery. 3D embroidery, also called puff embroidery, is a special technique in which we use embroidery foam and thus achieve an increase. The logo/design is filled in, giving it more depth and putting it "on" the fabric, as it were. With puff embroidery it's important that there is enough space for the embroidery foam.
Is my design suitable for 3D embroidery?
Not every design is suitable for this because a minimum and maximum space is required. The ideal size to bridge is between 4 mm and 1.5 cm. If there are many details in the design, the option is quickly dropped. But if the design consists of thick lines/shapes/symbols and if they are large enough, it can certainly be made. Another option is that we make a combi emblem, so that we, for example, make the "rough" lines/symbols from the design with embroidery foam and embroider the rest. If you have any doubt, feel free to contact us or view the 3D examples below.
---
THE ADVANTAGES OF EMBLEMEN-BADGES.NL
We have been the specialist in making emblems of the highest quality for many years. We know exactly what is and what is not possible and therefore give the best advice. There are different techniques so that we can make a super beautiful emblem, patch or badge with almost any design. So even if 3D embroidery is not possible, there is always another way to think of so that your design will eventually become a super nice emblem!
OWN DESIGN 3D EMBLEMS
Fill in the quotation form and receive a fully customized quotation within a maximum of 24 hours.
After approval of the quotation, we will get to work and make the first emblem of your company logo, of which you will receive a photo.
If the sample photo is completely according to your wishes, we will make the rest and send the emblems.
We have a delivery time of two to three weeks. Urgent delivery is often possible in consultation, please contact us.
PRICES PUFF EMBROIDERY
Emblemen-badges.com supplies the most beautiful custom-made 3D badges. Fill in our simple quotation form without obligation within two minutes for a tailor-made quotation.
Design your own 3D emblems
All patches and badges are custom made for our customers. We like to serve you quickly and accurately, we use three simple steps:
Send us your design, including numbers and dimensions. We will send you a tailor-made quotation within 24 hours.
We make a sample drawing and after approval on the drawing we first weave an emblem as a trial version. For checking, we will send a detailed photo of the trial logo.
After your agreement, we will take the rest of the emblems into production.
By default, we deliver the emblems within two to three weeks. Do you need the emblems or labels sooner? Please contact us, an urgent delivery is possible in consultation.