Embroidered and woven combination badges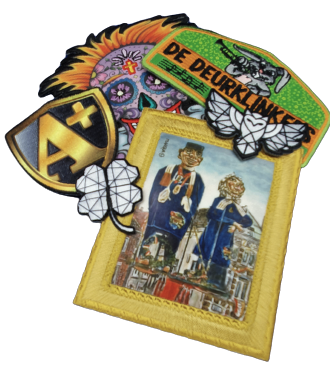 New in the range of Emblemen-badges.com are embroidered and woven combination emblems. With these special badges we use two techniques to achieve an optimal result. Combining two techniques happens in most cases if the design cannot be embroidered due to too much detail, too small letters or color gradient. By combining 2 techniques, we can turn every design into a perfect emblem. Is there any doubt whether a combi badge is the solution for your design? Than press the quotation button and send it in and we will review the design.
Design your own combi badges
We make all logos for our customers completely customised. Making perfect emblems is our passion, every design is different and requires a certain technique. On the basis of a few simple questions on the quotation form, we get a good idea of the wishes and we make a unique emblem of each design. Interested in combi emblems? Fill in the quotation form and receive a tailor-made quotation without obligation within a maximum of 24 hours. Emblemen-badges.com has a standard delivery time of two to three weeks. Urgent delivery is often possible in consultation, please contact us.
Options backside
Sew on
Ironing
Sticker layer
Velcro fasteners
Plastic
Tips!
Deep black is in most cases a bit less black in reality and light colors on a dark background can cause problems. No further restrictions, many details, color gradient, shadows and outlines are all possible!
Only workable from a good file, preferably a PDF.
Below we give an impression of our produced combi emblems en badges.
---
THE ADVANTAGES OF EMBLEMEN-BADGES.COM
We have been the specialist in making emblems of the highest quality for many years. We know exactly how to use the techniques of combi badges to realize your design. The result is a beautiful badge that you can be proud of (we are too).
ABOUT COMBI BADGES
We use modern techniques in the production of combi badges.
The design of text, logo's or a combination of these is put into our special fabrics using heat, time and light pressure. After this process, the fabrics go to a department that, where necessary/possible, will embroider pieces of the design over this print, then we embroider the edges. Our combi badges are colorfast and do not fade during washing.
Thanks to our professional working method, we are able to work in great detail. That way you have combi badges that are an exact representation of a company logo or the logo of your association.
PRICES COMBI BADGES
Emblemen-badges.com supplies the most beautiful custom combi badges. Our rates page has a handy overview that makes it easy to calculate prices. The larger the number, the lower the unit price. Use our simple quotation form for a custom quote. Do you want to order more than 5,000 emblems with a company logo? No problem, indicate this on the quote form. Just full in 3 simple steps:
1) Fill in the quotation form and receive a tailor-made quotation without obligation within a maximum of 24 hours.
2) After approval of the offer, we will get started and make the first emblem of your design, of which you will then receive a photo.
3) If the sample photo is completely to your liking, we will make the rest and send the emblems.