Embroidered keychains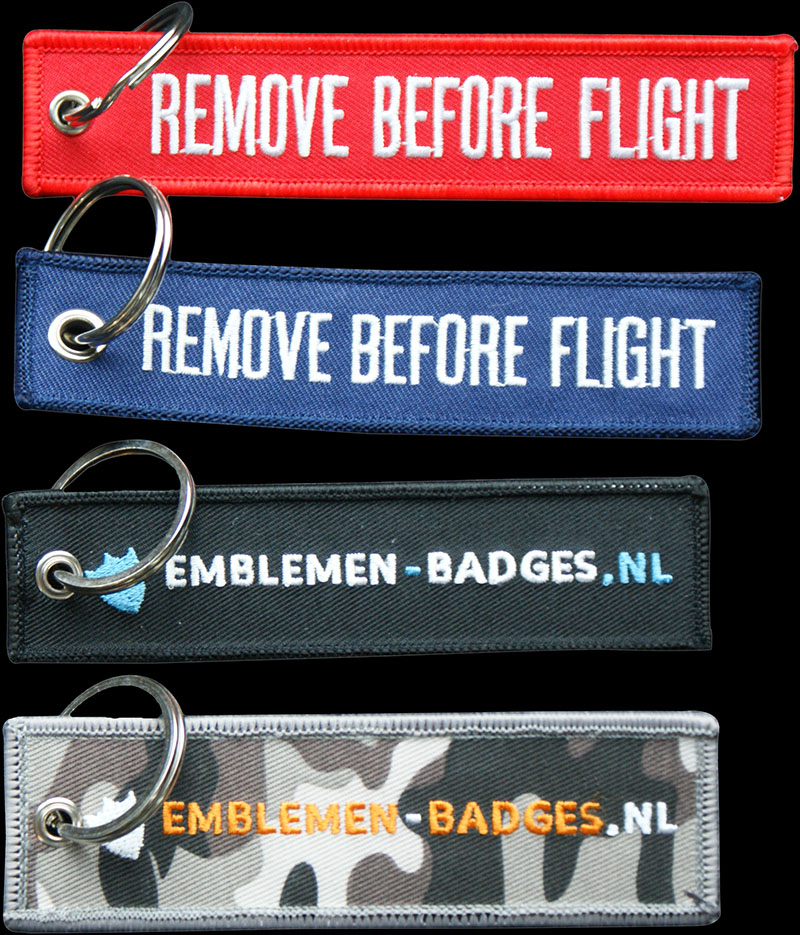 Looking for embroidered or "remove before flight" keychains? Emblemen-badges.com is the expert in embroidering these keychains. With modern and professional techniques, an eye for detail and years of experience, we ensure that the embroidered keychains fully meet everyone's wishes. We make custom keychains with your own logo or design in detail. Embroidery of a logo or text gives it a luxurious look. These fabric keychains are very popular as a personalized promotional gift or striking give-away during an event or other special occasion.
Self-designed embroidered keychains
All embroidered keychains are completely custom made by us. We do this on the basis of a design or a logo. We are happy to advise you on a suitable emblem. To provide a fast service, we use three simple steps:
Send us a logo or design (high resolution) with the desired format and the required number. Based on this information, we prepare a quote that we send within 24 hours.
Than we start with a detailed drawing as an example. Once you approve it, we'll make a trial keychain.
Only after agreement on the examples do we start producing all embroidered keychains.
We deliver the key rings within two to three weeks. Is it an urgent order, for example because of a special occasion? Please contact us to discuss the possibilities of an urgent delivery.
Check out some of the embroidered keychains we've made for our customers below.
Van 2 ontwerpen beide 50 stuks laten maken. Zijn mooier geworden dan ik verwachtte! Goed meegedacht en handige opties aangedragen om ze nog mooier te maken. Snelle levering.
---
THE ADVANTAGES OF EMBLEMEN-BADGES.COM
We have been the market leader in embroidering keyrings of the highest quality for many years. We translate a design or a logo into a detailed result and we take into account the wishes of our customers. Customers receive free advice from us and a digital sample copy after placing the order.
PRICES EMBROIDERED KEYCHAINS
Prices of embroidered keychains depend on the size of the order and the size. It is possible to calculate prices yourself using the information on our prices page. For an exact quote it is also possible to request a quote. We will send you a quotation within one day based on your wishes. Our quotations are exclusive of VAT and shipping costs. 
OPPORTUNITIES
We embroider keyrings and remove before flight tags in various sizes and we use 9 or 10 colors as standard. It is also possible to use more colors, we charge a small additional cost for that. With embroidered emblems and keyrings, there are a number of things to take into account. For example, if there are letters in the design, it is important to keep a minimum size of 3.5 millimeters, otherwise the letters are not legible.
For more information about embroidered patches or for personal advice, we recommend that you contact us. We will tell you which techniques and materials are most suitable based on your wishes. Or use our quote form and receive a custom quote within 24 hours.