Lapel pins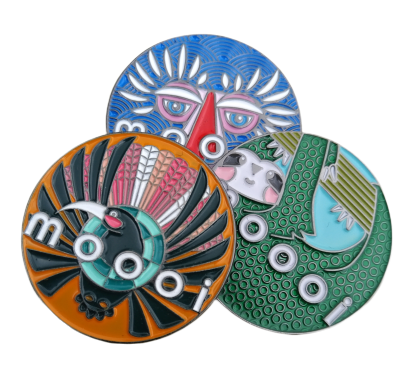 Emblemen-badges.com is the supplier for all your pins. These pins are used for all kinds of purposes such as a memory or or event, as a logo for a (sports) association, organization or membership, but also by companies as a promotion. Whatever your wishes are, you can count on the Emblemen-badges.com team for good advice and an end result that will make you happy. Are you looking for a beautifully wrapped pin? That is also possible, as you can view here. They are all kinds of pins, 2D, 3D, emaille, enamel, printed etc gladly you don't have to know witch one is best for your design. You just have to make sure you have a great design and we'll take care of the rest :-)
PINS ACCORDING TO OWN DESIGN
We tailor-make all pins and pins for our customers. Every design is different and requires a different production process. Emblemen-badges.com has the knowledge of the products and you just have to deliver the design to us with the corresponding wishes.
On the basis of a few simple questions on the quotation form, we have a perfect picture of the wishes and then we make a unique pin.
Fill in the quotation form and receive a tailor-made quotation without obligation within a maximum of 24 hours.
After agreeing to the offer, we will get started and make the first pin of which you will then receive a photo.
If the sample photo is completely to your liking, we make the rest and send the pins.
Below you'll find an impression of the pins that we made before.
---
WHY CHOOSE EMBLEMEN-BADGES.COM?
In addition to being the market leader and expert in making emblems and badges, we are also specialists in the field of pins aof very high quality. In addition, we know better than anyone how to convert our customers' logos and designs into beautiful products at a competitive price. What can you expect from us? 100% customization based on your own design or logo and of course a great result!
PRICES PINS
The prices of pins depend on the numbers and size. With a larger order, the price per piece is lower. For more information about pins and pins or to discuss the possibilities for a design, we recommend that you contact us. Or fill in the quotation form via our website and receive a quotation within 24 hours. Shipping costs and VAT are not included in the price
POSSIBILITIES OF PINS
Which pins, brooches, tie pins, lapel pins, merchandise and promotional gifts are best for you? There is no ready-made answer, it has to do with various factors such as the design but also the desired appearance. Is there a lot of details or colors in the design or just a little. At Emblemen-badges.com we can translate your wishes into the right materials thanks to our years of experience. Whether it is soft enamel pins, a colored pin with polished surface, metal printed pins, 2D or 3D, metal embossed pins and with a butterfly - or safety clasp, screw, magnet or stick pin we help you through the forest of all these possibilities .
And you don't know exactly what you want, do you doubt whether the design is suitable for making certain pins? Fill in our quote form without obligation and we will make a proposal within 24 hours.