Patches and badges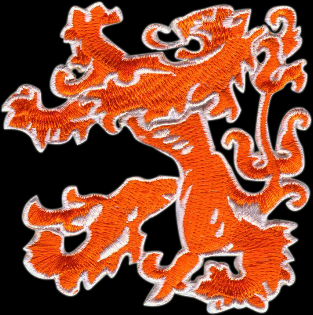 Emblemen-badges.nl has been making embroidered, woven and combination emblems, badges and patches of the highest quality for decades. The emblems are suitable for attaching to (business) clothing, jackets, caps and bags. But also the scouting, sport- and motorclubs have been able to find the patches and badges of Emblemen-badges.nl for years. 
Custom made patches & badges 
Whether the design is suitable for embroidery depends on a number of things. Such as the font size, letters with or without outline, with or without color gradient, how many details and the desired size of the emblem. Does this sound like abracadabra to you? Don't panic! Feel free to mail us the design / logo and we will assess the work of art and give honest advice on how to make the best and most beautiful patches or badges.
All kinds of possibilities
If we can't embroider the design, there are other options to make a beautiful patch or badge. Emblemen-badges.nl not only makes the most beautiful embroidered emblems, but is also the specialist in making combi, woven or PVC patches. Our master piece is the 100% embroidered combi emblem. Every design, no matter how complicated and detailed, becomes a breeze when we turn it into a beautiful combination badge or patch. All we need is a highly scalable file, preferably a PDF. 
Affirmation embroided emblems, badges or patches 
Emblems, patches or badges can be attached in various ways. Think of sewing on (veline), ironing on, attaching with velcro or a sticker layer. Badges provide a classic and 3D look and are very suitable for soldiers, police, social workers, (carnivals) associations, sports clubs, scouting groups and companies.
Options backside
Sew on (veline)
Ironing layer
Stickerl ayer
Velcro
Plastic
Tips!
Standard up to 9 colors.
Expansion to 12 colors possible at a small additional cost.
To embroider a well readable letter, the minimum width per letter is 3.5 to 4 mm.
We can work with all files.
Use of shadows / gradients and outlines is often not possible. The size of the design is decisive in this, so if in doubt, feel free to ask us for advice.
View a number of examples of embroidered patches & badges made by Emblemen-badges.nl below.
---
CUSTOM MADE PATCHES AND 
Embroidered patches & badges are suitable for logos / designs that contain sleek, clear, full surfaces. Color gradient is not possible, for example, letters need about 3.5 mm of space to make a beautiful embroidered emblem. Does the design contain many details and fine letters? Then it is better to make a woven (combi) patch or a 100% embroidered combi badge. But leave that brain teaser to Emblemen-badges.nl. All you need to know is that for just about any impossible challenge, we have a suitable solution.
ORDER EASILY EMBLEMS AT EMBLEMEN-BADGES.NL
The most beautiful emblems, patches and badges can easily be ordered via the quotation form. There are some simple questions that only take a few minutes to complete. Then we continue embroidering and provide a tailor-made quotation within 24 hours. So feel free to send in the application for patches and badges without obligation and we will take care of the rest! The delivery time for embroidered emblems is 2 to 3 weeks, are the embroidered artworks needed earlier? Please contact us or state the latest delivery date in the quotation request.
MOQ
Emblemen-badges.nl makes badges and patches from 25 pieces. Large embroidered emblems can be made from 1 piece. We supply woven, combi and PVC patches from 50 pieces.
WHO DO WE MAKE PATCHES & BADGES FOR?
Of course we make the emblems for everyone! This includes:
Government agencies
Advertising agencies
Fashion designers 
So stop looking, there is only 1 specialist in making the best emblems, patches and badges and that is Emblemen-badges.nl. We have been the specialist and market leader for years and have been making emblems, patches and badges of the highest quality at competitive prices for over 25 years. The best proof we can provide for this is by asking our customers to find their reviews via Facebook, Google reviews and our website.