AIRSOFT PATCHES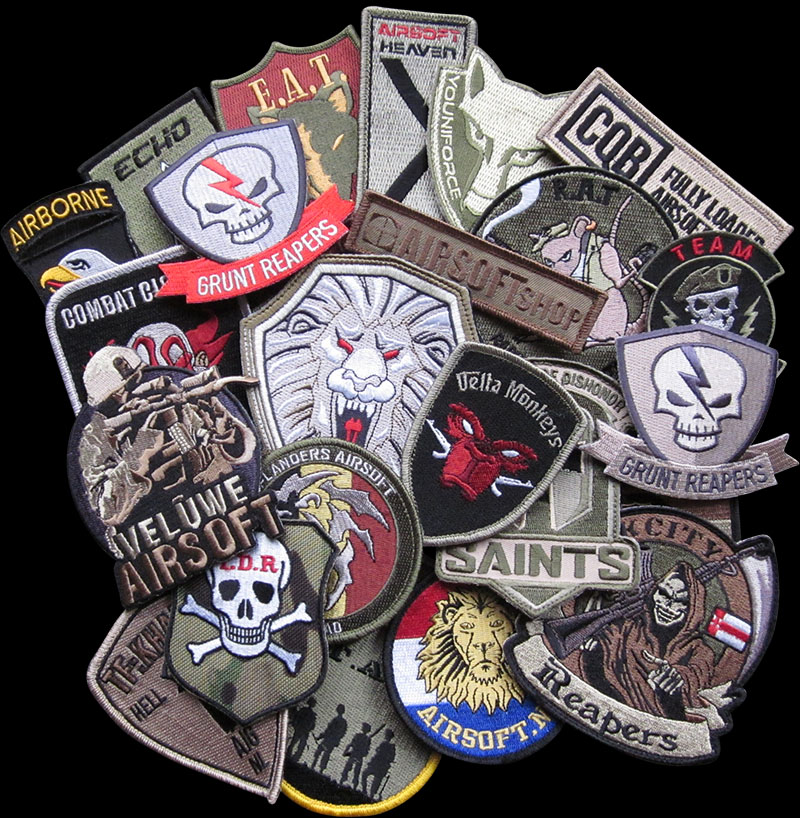 Emblemen-badges.com is the expert in making airsoft patches of the highest quality that survive the rough work in the forest with ease. All types of emblems are very easy to attach with velcro, needle and thread or with an ironing layer. The exception to this are airsoft patches made of PVC, which cannot be ironed on because the rubber cannot withstand the heat of an iron or transfer press. In most cases, we choose velcro which we supply as standard in the colors black, white or army green. In the quotation form you can indicate this choices yourself.

If desired, we also supply the soft side for the clothing in the same shape as the emblem so that you can apply it invisibly on the clothing.

We make sure that the badge matches your team logo in detail. We are not bound to a specific shape or size, we can make any design or shape. Do you have additional wishes? No problem, we are happy to advise you on the possibilities.
Airsoft patches according to your own design
We make all airsoft patches completely tailored. Making perfect emblems is our passion, every design is different and requires a certain technique. On the basis of a few simple questions on the quotation form, we have a perfect picture of your wishes and we also make a unique emblem team logo.
Fill in the quotation form and receive a tailor-made quotation without obligation within a maximum of 24 hours.
After you have accepted the offer, we will get started and make the first emblem of your airsoft logo, from which you will receive a photo.
If the sample photo is completely to your liking, we will make the rest and send the emblems.

Emblemen-badges.com has a standard delivery time of two to three weeks. Urgent delivery is often possible in consultation, please contact us.
Very well-made. High-quality materials. All this for an extraordinarily reasonable price.
Quick, easy, and friendly! The price is top-notch, too!
---
Why choose emblemen-badges.com?
We are the market leader in making airsoft patches of the highest quality. In addition, we know better than anyone how to convert our customers' logos and designs into beautiful emblems at a competitive price.
Airsoft: popular battle game in the forest
Airsoft is a popular sport that takes place in the forest. With replicas of existing weapons, teams compete against each other in a simulated battle. The ammunition at airsoft consists of biodegradable BB's of 6 millimeters that the participants shoot with special airsoft weapons. The weapons have been copied in such a way that they are virtually indistinguishable from the real thing, which made this activity illegal at first. One of the most important parts of airsoft is the equipment. Teams therefore devote a lot of time and attention to their clothing and the accompanying patches are an absolute must. We have been allowed to make airsoft patches for many teams in the past. Are you the next with beautiful custom patches?
Prices airsoft patches
Emblemen-badges.com supplies the most beautiful custom airsoft patches. Our rates page has a handy overview that makes it easy to calculate prices. The larger the number, the lower the unit price. Use our simple quotation form for a custom quote. Do you want to order more than 5,000 airsoft patches? No problem, indicate this on the quotation form. The prices for PVC patches are based on design and color, please feel free to request a quote.
Possibilities airsoft patches
At Emblemen-badges.com we embroider badges up to a size of 50 centimeters. Per badge there is a standard choice of up to nine or 10 colors (depending on the technique we use), for a small additional charge it is also possible to make emblems up to 12 colors. More information about our aisoft patches? Contact us, we are happy to help!